Can You Sue Uber or Lyft for a Car Accident?
If you are in an accident with a rideshare driver, such as an Uber or Lyft driver, and you suffer a personal injury, you can file an insurance claim against the rideshare company. If there is no settlement or claim paid out, you can file a lawsuit against the rideshare company. Recently, we discussed what happens if you are a rideshare passenger when an accident occurs or if you are a driver in an accident with a Lyft or Uber driver. In that piece, we discuss the claims process, the insurance policies these companies have, and the insurance coverage provided by those policies. But what happens if you are in an accident and can't settle?
Suing Uber or Lyft for an Accident
Many times, when our clients are in car accidents, we work with insurance companies to settle claims without having to file a lawsuit. For Uber accidents or Lyft accidents, the process is similar. As we've covered before, these rideshare companies carry additional insurance coverage meant to protect the companies, drivers, and passengers when an accident occurs. You can click on the following links to see the insurance information for Uber and Lyft.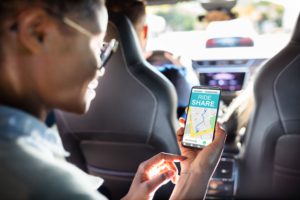 Working with a law firm and accident attorney to navigate that coverage, establish dollar amounts for bodily injury, pain and suffering, and property injury, and negotiate with insurance companies, is key to making an effective and fair claim. The claims process can be slightly more complicated given the various insurance companies involved – if a lawsuit needs to be filed, there will be multiple parties that need to be named in the lawsuit as well.
The complexity of these types of cases is why you should retain an accident lawyer to handle your claim and represent you against the insurance companies behind Uber and Lyft. Generally speaking, your claim will be filed against the at-fault driver, and the ride sharing company's insurance carrier will provide a defense as well as insurance coverage for any verdict or settlement. If a settlement offer is provided and you don't like it, you can work with an attorney to sue Uber, Lyft, or any other rideshare company to get the compensation you deserve.
Get a Free Consultation
If you have been involved in an accident while a passenger in a Lyft, Uber, or other rideshare service, or if you are the driver of a vehicle in an accident with a rideshare driver, reach out to one of the experienced attorneys at Dross Berman for a free consultation and to discuss your case!